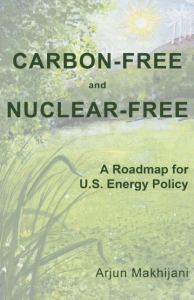 The goal of the Carbon-Free Nuclear-Free project is to eliminate U.S. greenhouse gas emissions from burning fossil fuels by promoting a zero-CO2 economy in the U.S., and to and to lay out a roadmap to achieve this as soon as is technically and economically practical, without resorting to nuclear power. It will take an integrated and comprehensive solution, as the issues of climate change, nuclear weapons proliferation, and security of oil supplies are intimately connected.
Inspired by the 2007 book Carbon-Free and Nuclear-Free: A Roadmap for U.S. Energy Policy, state-efforts are currently leading the way. See below for additional reports, op-eds, testimony, and more resources related to Carbon-Free Nuclear-Free.
State-level Carbon-Free Nuclear-Free Reports
Continue to check back for updates, or sign up for our email newsletter to be notified when new resources are available. You can also visit our Subject Index for additional resources on these topics and more.